Imbi Monorail Station
Imbi Monorail Station
Imbi Monorail Station
Imbi Monorail Station
Imbi Monorail Station
Imbi Monorail Station
Imbi Monorail Station
Imbi Monorail Station
Imbi Monorail Station
Imbi Monorail Station
Imbi Monorail Station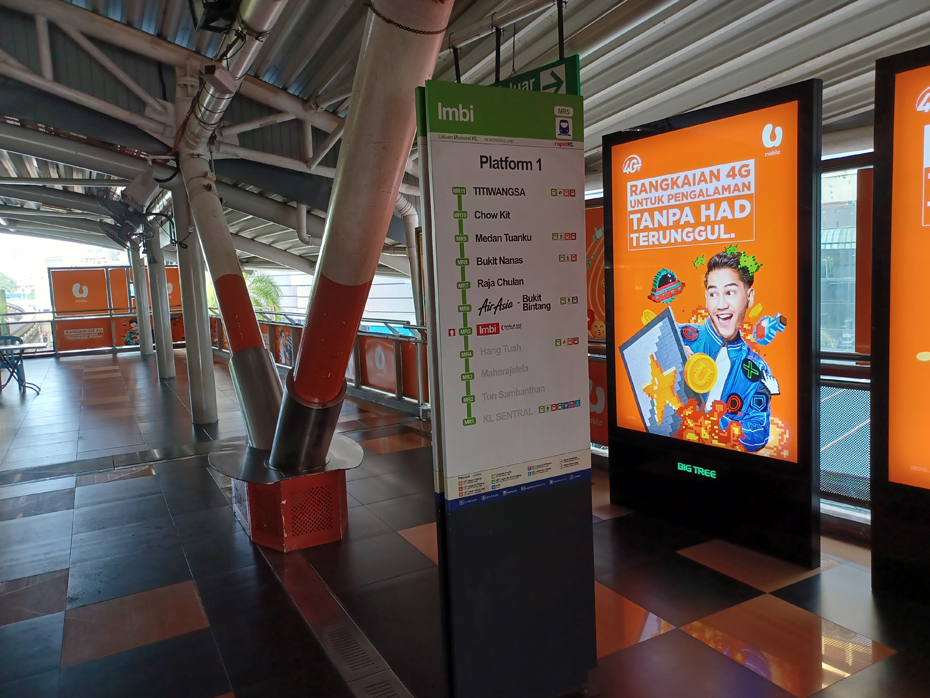 Imbi Monorail Station
❮
❯
About the Station

Imbi Monorail station is an elevated monorail train station that forms a part of the Kuala Lumpur Monorail (KL Monorail) line located in Kuala Lumpur and opened alongside the rest of the train service on August 31, 2003.

The Imbi Monorail Station is situated in and named after the district of Imbi, directly over Jalan Imbi beside the northeast tip of the Berjaya Times Square shopping centre and just east from Plaza Berjaya. The Berjaya Time Square was opened two months after the Station began operation.

The Imbi Station is also within a close range of several more shopping centres near Bukit Bintang, including the Low Yat Plaza, Imbi Plaza, Sungei Wang Plaza and BB Plaza. Because of its location, the station receives a high number of passengers during peak hours and non-working days. Due to this, the Imbi Station has become one of the most heavily used stations along the KL Monorail Line.
Station Facilities
• Side Platform
• Escalator & Lift
• Public Toilets

• Ticket Vending Machine
• Customer Service Office
• Drinks Vending Machine
Entrances and Exit

The Imbi Station features a total of four exits: Two exits towards the north of the Station lead into the Meliá Kuala Lumpur and linkway to Plaza Berjaya on the opposite side of the road, while the remaining two exits lead southward onto both sides of Jalan Imbi (Berjaya Time Square).
| Entrance | Location | Destination |
| --- | --- | --- |
| A | East Side | Jalan Imbi, Meliá Kuala Lumpur |
| B | West Side | Linkway to Plaza Berjaya |
| C | East Side | Jalan Imbi, Berjaya Time Square |
| D | West Side | Jalan Imbi, Berjaya Time Square |
Around the Station

Within walking distance from this Station, you can find this:

• Berjaya Times Square
• Low Yat Plaza
• Plaza Berjaya
• Meliá Kuala Lumpur

Platform Architecture

Imbi Monorail Station's layout is different from other KL Monorail Line stations. The Station has three levels: The access points at street level, and the ticket area and adjoining platforms on two elevated levels. All levels are linked via stairways, escalators and elevators designated for disabled passengers.

The Station's side platform is used by trains travelling at either direction of the line, and is entirely sheltered by roofs.

Station Information
| | |
| --- | --- |
| Station ID | MR5 |
| Address | Jalan Imbi, Kuala Lumpur |
| Lines | KL Monorail |
| Platforms | 2 Side Platforms |
| Tracks | Dual Tracks |
| Parking | Unavailable |
| Tickets | Ticketing Counters & Vending Machines |
| First Train | 06.00 am |
| Last Train | 11.30 pm (KL Sentral towards Titiwangsa) |
| Last Train | 11.50 pm (Titiwangsa towards KL Sentral) |
folder_open
KL Monorail Line